There is a little something for everybody!
Project #1: Children's Consignment Sale April 19th-21st
We have been collecting, sorting, hanging, bagging, tagging, and pinning kids and teen clothing, toys, and household items for the upcoming consignment sale. We will use any profit from this event to help pay for travel expenses to Haiti.
Project #2: Haitian-Made Clay Bead Charm Bracelets
This project is two-fold. It directly supports orphan prevention in Haiti by helping to give parents jobs. In addition, it helps us by providing a way to raise money for going to Haiti this July!
Available for purchase at 'Hair the Rocks' in Central.
109 W Main St
Central, South Carolina 29630
Contact me for details at 859-420-6781.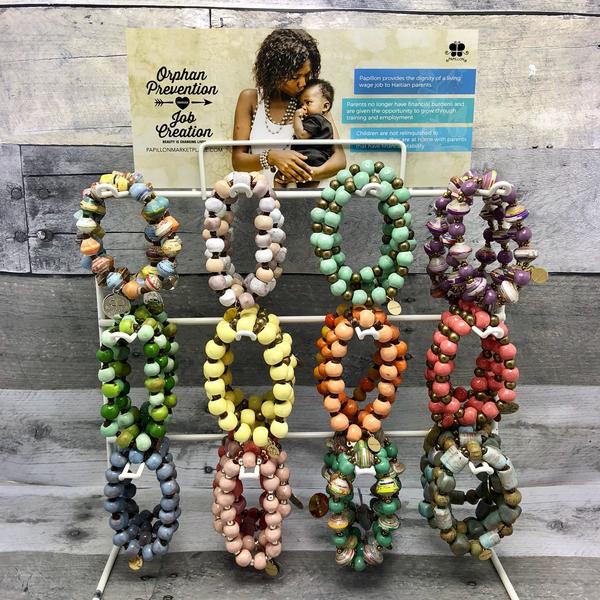 Project #3: "I Love Haiti' T-Shirt Campaign
Project #4: 'Love Boldy' T-Shirt Campaign
Project #5: Essential Oils Made Easy (Online Class) April 29th 8:00-9:00pm
Click HERE for the Facebook Event Page.
**For every starter kit purchased, our fundraising campaign gets $50!**
With a little education, essential oils can change the health of your family with little complication or confusion. If I can do this, SO CAN YOU. I always try to keep things simple. ;)
The class will teach you about eleven must-have oils---the best place to truly start AND how to keep it simple. We will SHOW you how easy it is to use them AND give you two ways to use each oil. You'll end this class thinking, "I can do that" and you'll have a better understanding why essential oils need to be a part of your WELLNESS CABINET at home.
Don't forget, if you decide to purchase your starter kit....
....we get help with our trip!
.....PLUS there will be fun giveaways!!
Project #6: Savannah's Art Sale!
We are excited to announce that you can now order
Mounted Photo Panels of Savannah's Giraffe, Parrot, and/or Seahorse.
The glossy Savannah Artwork print will be mounted on a 1.5" thick panel. Sturdy enough to display on a desk, tabletop or even hung on the wall.
Taking orders now through May 15th.
Size Single Unit Cost Set of 3